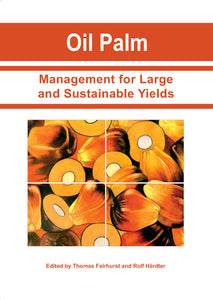 This is an e-Publication. A license code will be provided for each purchase of this e-Publication. The code is provided to the email address of the user who will be entitled to use the publication on up to two of his/her own devices (e.g. laptop and tablet).
--------------------------
Sixteen chapters by experts in oil palm cultivation and management.
Table of Contents
1. INTRODUCTION
Rolf Härdter and Thomas Fairhurst

2. BOTANICAL ASPECTS OF THE OIL PALM RELEVANT TO CROP MANAGEMENT
Ng Siew Kee, Helmut von Uexküll and Rolf Härdter

3. LAND SELECTION FOR OIL PALM
S. Paramananthan
4. THE SEARCH FOR YIELD IN OIL PALM: BASIC PRINCIPLES
Kees Breure
5. CLONAL OIL PALM: PRODUCTION, YIELD PERFORMANCE AND NUTRITIONAL
REQUIREMENTS
Ng Siew Kee, Thong Kar Cheong , Khaw Cheng Haw , Henry S.H. Ooi, Leng Ka Yee and P. Kayaroganam, Helmut von Uexküll and Rolf Härdter
6. STANDARD AGRONOMIC PROCEDURES AND PRACTICES
Roger A. Gillbanks
7. LEGUME COVER PLANTS
Ken E. Giller and Thomas Fairhurst
8. CANOPY MANAGEMENT TO OPTIMIZE YIELD
Helmut von Uexküll, Ian E. Henson and Thomas Fairhurst
9. THE ROLE OF NUTRITION IN DISEASE CONTROL
Peter Turner
10. GENERAL OIL PALM NUTRITION
Kah-Joo Goh and Rolf Härdter
11. ASSESSMENT OF OIL PALM FERTILIZER REQUIREMENTS
Hugh Foster
12. DESIGN AND ANALYSIS OF FERTILIZER EXPERIMENTS
Rob Verdooren
13. FERTILIZING FOR MAXIMUM RETURN
Kah-Joo Goh, Rolf Härdter and Thomas Fairhurst
14. UTILIZATION OF FIELD RESIDUES AND MILL BY-PRODUCTS
Mike Redshaw
15. A CONCEPTUAL FRAMEWORK FOR PRECISION AGRICULTURE IN OIL PALM
PLANTATIONS
Thomas Fairhurst, Ian Rankine, Armin Gfroerer Kerstan, Vince McAleer, Clive Taylor
and William Griffiths
16. CONCLUSIONS: FROM AREA EXPANSION TO YIELD INTENSIFICATION
Thomas Fairhurst and Rolf Härdter
Appendix
1. GROUPING PLANTATION FIELDS IN LEAF SAMPLING UNITS
2. MARKING PALMS FOR LEAF SAMPLING IN LEAF SAMPLING UNITS
3. LEAF (FROND) SAMPLING
4. SOIL SAMPLING FOR ANALYSIS AND SOIL FERTILITY APPRAISAL
5. ISOMETRIC PALM POINT MAPPING
6. MEASUREMENT OF VEGETATIVE AND GENERATIVE GROWTH IN MATURE PALMS
7. MEASUREMENT OF NUTRIENT USE EFFICIENCY
8. SAMPLING FERTILIZER MATERIALS FOR ANALYSIS