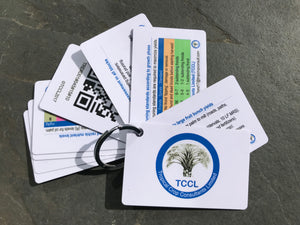 A set of plastic, credit-card sized cards that provide key information on:
Keys to large fruit bunch yields.
Keys to high oil extraction rates.
Pruning standards according to growth phase.
Keys to correct harvesting and pruning technique.
Keys to field assessment in all blocks.
Key palm measurements in selected blocks.
QR card example.
Use of sampling point QR cards.
Critical leaf and rachis nutrient levels.
Keys to leaf and rachis sampling.
Keys to efficient pesticide use.
Keys to efficient fertilizer and mill residue use.
Keys to drainage maintenance.
Keys to ground cover management.
Agronomic Management Information Systems (AIMS).